If you believe in giants
Legends and children's books are alive with endearing and magnificent animals. And amongst these creatures are whales! Here, as in all the world's oceans, Man has made their populations more vulnerable: whaling historically, chemical contamination and noise pollution today, climate change tomorrow.
If, like us, you believe in giants - the whales of the St. Lawrence - help us to better understand and raise awareness of them in order to better protect them... so that they never go extinct!
Discover three ways to help GREMM.
---
A DONATION FOR THE PRESENT
Giving to the GREMM is easy: you can mail us a cheque, make a credit card payment by phone at 418-235-4701, or make an online donation. Also, you can choose where you would like your donation to go: to support our Mission, for Research or for Education. Our fund can also receive:
Monthly donations;
Stock donations;
Material and capital donations;
A charitable bequest.
NEW! DONATIONS THAT WILL GIVE US A WHALE OF A BOOST!
Show your support for marine mammals on a plaque in front of the Marine Mammal Interpretation Centre (CIMM) in Tadoussac. The plaques will be inlaid in one of 600 cobblestones composing the blue whale silhouette gracing the Jardin de la Grève. Each plaque represents a donation of $1,000.
Objective: 100 plaques to welcome new giants in 2020
Make your donation today by mailing a cheque in the amount of $1,000 to 108 rue de la Cale-Sèche, by phone at 418-235-4701, or make a donation online through the form above. We will contact you to confirm the inscription to appear on the plaque that will thank you for your donation. You can donate $ 1,000 by means of monthly donations, stock donations or a charitable bequest. A tax receipt will be issued.
Your plaque will be placed in this life-size blue whale silhouette in the cobblestones leading to the Interpretation Centre.
The GREMM is a registered charity organization and an official donation tax receipt will be issued for any donation of $20 or more. Discover how we acknowledge your contribution here.
Your donation will be processed by Canadon, a registered charity and a non-profit social enterprise. All donations are eligible for a receipt for tax purposes issued by the GREMM, a registered charity (102208881RR0001).
MAKE A DONATION FOR THE FUTURE
Whales have a life expectancy comparable to our own. To understand them, they need to be monitored from generation to generation. Their protection requires concrete actions sustained over the long term.
Research and Education Endowment Fund

Our Research and Education Endowment Fund, managed by the Fondation Québec Philanthrope, has collected nearly a half a million dollars to date. Proceeds from these funds are used:
To ensure the long-term pursuit of our research and education programs;
To consolidate our permanent team as well as to ensure succession;
To host master's or doctoral students.
To make a donation or a bequest to one of our endowment funds or to learn more about us, please communicate with Marie-Ève Muller, head of our donation programme.
memuller @ gremm.org
418 780-3210
Discover how we acknowledge your contribution here.

---
ADOPT A BELUGA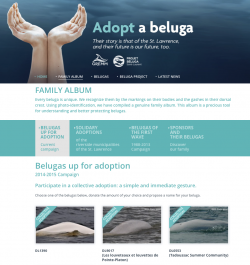 The belugas' story is that of the St. Lawrence. Their future is our future. Belugas are the barometer of the health of the St. Lawrence and their population is declining. 
When you adopt a beluga known to researchers,
You support scientific research;
You participate in the search for solutions;
You increase awareness of belugas and their plight;
You show your attachment to the St. Lawrence and its inhabitants.
Discover how you can join the family by visiting  adoptabeluga.org

THANK YOU!