MARINE MAMMALS INTERPRETATION CENTER (CIMM)
Located in Tadoussac, the Marine Mammal Interpretation Centre (CIMM) is presenting an exhibit on the whales of the St. Lawrence and related scientific research. This science museum welcomes more than 35,000 visitors every summer, making it the most popular museum on the North Shore! CIMM is managed by the Group for Research and Education on Marine Mammals (GREMM).
At CIMM, one can get up close and personal with a 13-metre-long sperm whale, view baleen belonging to the right whale Piper, touch a narwhal tooth, and explore the acoustic world of whales. Discover the largest collection of whale skeletons in Canada! Naturalists are present to answer your questions. And, if you keep your eyes peeled, you might even get lucky and spot a beluga swimming just a stone's throw away!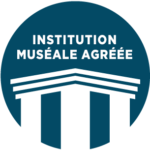 CIMM is a museum institution recognized by Quebec's Ministry of Culture and Communications.
Average duration of visits: around 1 hour… or more!
The exhibition is in French, but can be experienced with a booklet in English. Our naturalists speak english.
Marine Mammals Interpretation Centre (CIMM)
108, de la Cale Sèche, Tadoussac (QC) G0T 2A0
418 235-4701
Email : info@gremm.org
Facebook (mostly in French): facebook.com/cimmtadoussac/
2021 WINTER HOURS 
The Marine Mammal Interpretation Centre will open its doors this winter for groups of 4 people or more! To visit it, you must reserve at least 24 hours in advance. Contact us at 418 235-4701 or at info@gremm.org to make your reservation.
Possible visiting hours: from 4:00 pm to 6:00 pm, every day.
Rate: $30 per person + taxes, minimum of 4 people in a group.
Our skeletons don't like boots full of snow. Bring your shoes to visit!
The winter visit of the CIMM is included in different packages with the visit of the Ferme 5 étoiles. Visit their website to find out more!
COVID-19
We are taking all necessary measures to safeguard public health and safety in our showroom.
Mask required
Payment by credit or debit card only
2021 Summer season 
Starting on June 7, we will be open from 9am to 6pm.
Entrance fee: $15, tax included
Free of charge for children (17 years or under) accompanied by an adult! This rate does not apply to groups (10 or more persons). For group prices, please contact us at 418-235-4701 or at: info@gremm.org.
Activities
Whale-watching: From the rocks around the CIMM, observe the belugas, minke whales and seals that enter the Saguenay. Free activity, open to all.
The researchers coming back from sea : every day, when the research teams come back from the field, in the exhibition room. Get the latest whale news  and gain an insight into scientific research by researchers upon their return from the field.
Jardin de la Grève : every day, at your own pace. In front of the CIMM, the Jardin de la Grève is an area of relaxation, contemplation and entertainment. It contains 5,500 plants typical of the North Shore and shelters the sculptures of five life-size belugas. Interpretive panels provide information about the whales of the St. Lawrence and the garden.
Marine Mammal Emergencies, the presentation (BACK IN 2021): everyday, around 15h00, in the exhibition room. A person working at the Quebec Marine Mammals Emergencies Network will come to talk to you about the current cases and what the cases tell us about whales and seals in the St. Lawrence.
Services
Boutique souvenir
All the products sold in the shop are for the benefit of GREMM's scientific research. Your purchase helps support the whales of the St. Lawrence.
Parking
The parking lot adjacent to the CIMM belongs to the municipality of Tadoussac. Rates and availability are subject to change.