Enchantment and education
Whales have fascinated mankind since the earliest of times. Nourishing and perpetuating this fascination is what drives our team. Whether at the museum or on the Internet, we combine research and education to share the most up-to-date knowledge available. Our messages are simple and often humorous, yet always scientifically accurate and conservation-oriented.
Marine Mammal Interpretation Center (CIMM)
The CIMM is the most popular museum in the Côte-Nord region, receiving nearly 30,000 visitors a year. It's an unforgettable experience! Come face to face with a 13-metre long sperm whale and explore the world of whales through original videos, cetacean acoustics activities, games, a skeleton collection and an exclusive film. Specialists are on hand to answer your questions, and the purchases you make at the boutique will contribute to funding whale research projects.
Join Isabelle and Marie-Sophie for a tour of the CIMM with RDS' broadcast on Aventure Grandeur Nature (in French)
Marine Mammal Interpretation Centre (CIMM)
108, de la Cale Sèche, Tadoussac, QC  G0T 2A0
418 235-4701
Email: info@gremm.org
Jardin de la Grève
Lying between the CIMM and the dry dock, the Jardin de la Grève is an area for relaxation, contemplation and activities. In addition to its 5,500 plants typical of the Côte-Nord region, the garden features five life-size beluga sculptures.
Join Patrice and Lise for a tour of the garden with ICI Radio-Canada's broadcast on La Semaine verte (in French)
Whales Online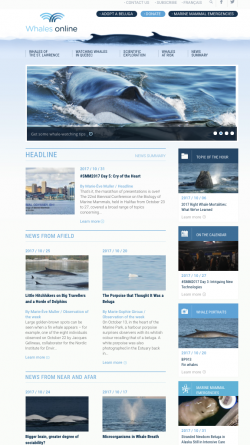 Ever since it went live in 2000, WhalesOnLine.org has become THE reference and news source for whales of the St. Lawrence. Enriched by observations coming from a vast network of collaborators, BaleinesEnDirect is a unique portal for the promotion of projects dedicated to St. Lawrence whale research and conservation. The site reaches some 200,000 users a year. Nearly 4,000 people are subscribed to the weekly
e-newsletter or follow us on the social networks..
Whale Portraits
This weekly newsletter is addressed to members of the tourist industry in the St. Lawrence-Saguenay Marine Park. Portrait de baleines relates whale stories gathered from researchers, captains and naturalists in an effort to enhance the quality of information shared with visitors, maximize the awareness potential of marine mammal-watching activities, and promote respect for whales and the adoption of environmentally friendly practices.
Custom Interpretation
The GREMM also offers tailored professional interpretation services at the century-old lighthouse station of Pointe-Noire (Parks Canada), on charter boat excursions and aboard international cruise ships.
For more information, contact us at info (at) gremm.org.