04/02/2019
If You Believe In Giants… Give Us a Whale of a Boost!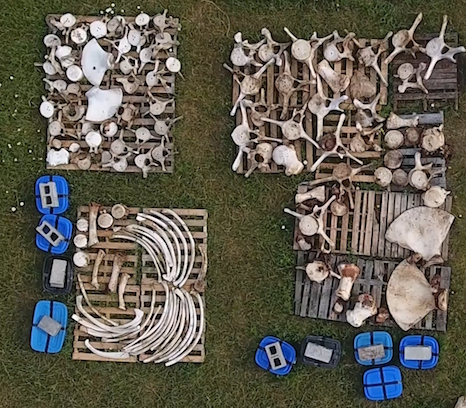 Show your support for marine mammals on a plaque in front of the Marine Mammal Interpretation Centre (CIMM) in Tadoussac. The plaques will be inlaid in one of 600 cobblestones composing the blue whale silhouette gracing the Jardin de la Grève. Each plaque represents a donation of $1,000.
Objective: 200 plaques to welcome new giants in 2020
Make your donation today by mailing a cheque in the amount of $1,000 to 108 rue de la Cale-Sèche, by phone at 418-235-4701, or make a donation online. We will contact you to confirm the inscription to appear on the plaque that will thank you for your donation. You can donate $ 1,000 by means of monthly donations, stock donations or a charitable bequest. A tax receipt will be issued.
Your plaque will be placed in this life-size blue whale silhouette in the cobblestones leading to the Interpretation Centre.
Read about the work on the skeletons here: My Week at the Whale Warehouse (Whales Online)