18/07/2015
Les bières Bélugas Limitées: supporting the adopt a beluga campaign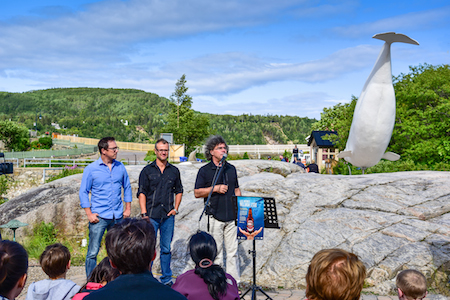 The first of a series of three beers brewed by Les Bières Bélugas Ltée has been available on the shelves of some fifty stores in Montréal and Québec City since May 27 and is now distributed by the majority of establishments in Tadoussac. This Golden Ale-type beer on lees was created to contribute to the research and conservation of St. Lawrence belugas. For every beer sold, a contribution of $0.11 will be made to the St. Lawrence Beluga Project as part of the Adopt a Beluga campaign launched last November by the Group for Research and Education on Marine Mammals (GREMM).
This beer is the recent brainstorm of the founders of Les Bières Béluga Ltée: Patrick Cool, Frédéric Jodoin and Éric Buteau. "We were looking to create a beer at the same time as when belugas were constantly in the news. Brewers were identified throughout Quebec that had the capacity as well as the desire to develop a quality beer while contributing to an environmental cause", says Cool. After a trip to the US to sample the market and seek inspiration, Patrick, Frédéric and Eric, in collaboration with young entrepreneurs from the Brasserie Générale de Quebec, developed a beer using American hops (Citra) that exhibits tropical fruit notes and an Australian hops (Galaxy) that presents a touch of citrus. After two weeks of in-bottle fermentation, the beer is ready to drink.
Les Bières Béluga Ltée notably oversees an effective distribution of the product, for which demand has exceeded expectations. "It gives us great pride to see a very positive response from consumers. Beer drinkers have called for and awaited the company's brews, and the feedback is excellent! Moreover, the cause that we care about is clearly shared by aficionados of our beer", affirms Jodoin.
Robert Michaud, scientific director of the GREMM, is honoured to have been approached by the team of Les Bières Béluga Ltée. "It's fascinating to see that the cause of the beluga has been such a strong rallying point. It is by ensuring the long-term sustainability of our research projects that we will succeed in creating a better future for this endangered species. The Adopt a Beluga campaign that this initiative helps support is promising for our projects", explains Mr. Michaud.
Exponential Distribution and Contribution
The Golden Ale will be on sale throughout the summer and will give way to a Scotch Ale-type beer in early fall. This new maple beer will stand out for its amber and woody flavour. "Les Bières Bélugas Ltée will include three products that we will launch in sync with the seasons. Thus, with each new beer, we hope to raise more and more funds for the St. Lawrence Beluga Project", says Cool, proud to see his project having become a reality.
The Adoption of "Al"
The Adopt a Beluga campaign (adoptezunbeluga.org) was launched on November 10, 2014, with the support of the Fondation de la faune du Québec, in an effort to ensure the long-term vitality of the St. Lawrence Project Beluga (projetbeluga.org), a research and monitoring program on the belugas and ecosystem of the St. Lawrence first initiated in the early 1980s. Adopting a beluga costs $5,000 and helps support research and monitoring of belugas in the St. Lawrence. Contributions from the sale of Béluga beers will go toward the adoption of "Al" and his companions.