27/06/2019
The Marine Mammal Interpretation Centre is being expanded to accommodate three new skeletons!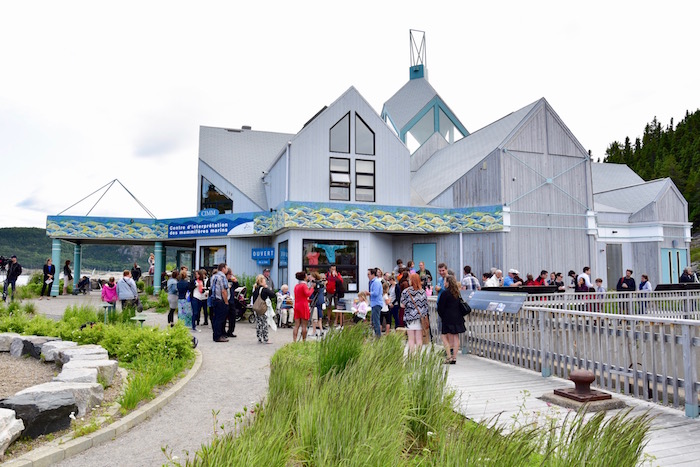 PRESS RELEASE
FOR IMMEDIATE DISTRIBUTION
Tadoussac, June 27, 2019 / The Group for Research and Education on Marine Mammals (GREMM) welcomes the Government of Canada's contribution – through Canada Economic Development for Quebec Regions and Canadian Heritage – for the upgrading of its Marine Mammal Interpretation Centre in Tadoussac. The grants being offered by the Government of Canada total $730,710. Tourisme Côte-Nord is also earmarking $50,000 to participate in the funding.
"Since 1991, we have been filling our Interpretation Centre with scientific knowledge that we acquired in the field and skeletons of whales recovered from our shores. Gradually, the Centre became home to these giants. But it's getting a little crowded in there, so we must expand to make room for new giants!" explains Patrice Corbeil, GREMM's Vice-President and Director of the Marine Mammal Interpretation Centre.
In this context, the Centre will see its showroom enlarged to accommodate three enormous skeletons: a juvenile humpback whale, a fin whale and a North Atlantic right whale. These three whales came to rest on the shores of the St. Lawrence and were recovered by our team. The three species complete the collection of skeletons on display, which is the most impressive of its kind in Canada. It is a reflection of the diversity of cetaceans that visit the St. Lawrence.
In parallel with the expansion, the permanent exhibit will also be enhanced. "The renewed exhibit comes at a good time. We face tremendous challenges in terms of our cohabitation with whales, especially with the increase in shipping traffic. Our Marine Mammal Interpretation Centre reveals how fascinating whales are and the importance of protecting them," adds GREMM's President and Scientific Director, Robert Michaud.
To complete the funding for this major project, GREMM needs to secure a further $200,000. "Help us get these skeletons out of the closet!" exclaims Patrice Corbeil. "For a donation of $1,000, we will post the names of the contributors or a short message on a plaque installed on the life-size blue whale outline on the path leading to the Interpretation Centre. Other funding tools will be announced in the near future.
We would like to thank all our volunteers and collaborators who participated in carcass recovery, necropsies and skeleton cleaning. Our sincere gratitude also goes out to the 5 Étoiles farm in Sacré-Coeur for accommodating the skeletons in anticipation of their assembly before the expansion.
Quick facts
Tadoussac's Marine Mammal Interpretation Centre is managed by the Group for Research and Education on Marine Mammals.
The Marine Mammal Interpretation Centre was officially inaugurated in 1991.
Inauguration of the revamped Marine Mammal Interpretation Centre is scheduled for 2020, which coincides with GREMM's 35th
To discover the stories of each of the three new skeletons due to join the collection: https://gremm.wpengine.com/docs/The_Souffleur_2018.pdf
Sources
Marie-Ève Muller, head of communications, Group for Research and Education on Marine Mammals (GREMM), 418 235-4701 (office) or 418-717-6061 (mobile), [email protected]
– 30 –