29/01/2019
Master project: Temporal Trend of Emerging Environmental Contaminants in the Endangered St. Lawrence Estuary Beluga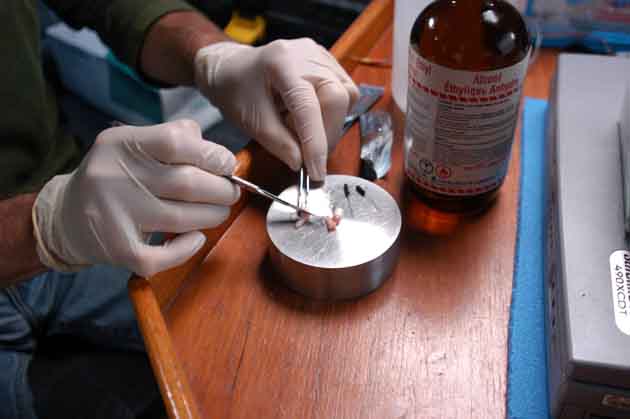 Project Synopsis
The St. Lawrence Estuary (SLE) beluga has been listed as an endangered species since 2014 by the Committee on the Status of Endangered Wildlife in Canada (COSEWIC). This small population of around 900 individuals inhabits a marine ecosystem significantly impacted by upstream anthropogenic activities. Therefore, chronic exposure to anthropogenic contaminants has been suggested as one factor affecting the health of SLE beluga and the recovery of this population. However, the occurrence and fate of many emerging contaminants in SLE beluga are unknown. The objectives of this project are to investigate the occurrence and temporal trend of industrial additives such as synthetic phenolic compounds, ultraviolet absorbents and aromatic secondary amines in SLE beluga tissues. This is a collaborative project with Université du Québec à Montréal (co‐supervisor: Jonathan Verreault), University of Montreal, University of Toronto, Environment and Climate Change Canada, Fisheries and Oceans Canada and GREMM.
Additional Information
MSc‐level funding provided for two years.
Project should start in May or September 2019
Requirements
• Satisfy the basic requirements for admission in the MSc program of oceanography at UQAR;
• BSc degree in Chemistry, Biochemistry, Biology, Oceanography, or a related discipline;
• Knowledge in analytical chemistry, environmental chemistry or ecotoxicology is an asset;
• Proficiency in French. Proof of French proficiency will be required for non‐Frenchspeaking candidates (e.g., international French test score > 650);
• Good communication skill in English is an asset.
To apply, send your CV and BSc transcript before February 18, 2019 to:
Zhe Lu
Institut des Sciences de la Mer de Rimouski
Université du Québec à Rimouski
Phone: 418‐723‐1986, ext. 1174
E‐mail: [email protected]